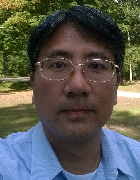 Yen-Chih Huang, Ph.D.
Associate Professor in Residence
Research Interests:  
Regenerative medicine, pluripotent stem cells, tissue engineering, biomaterials, micro/nanofabrication.
Address:   
A.B. Bronwell Building, Room 210
260 Glenbrook Road, Unit 3247
University of Connecticut
Office Phone: 860-486-7911
Office Fax: 860-486-2500 
Education:
BS National Tsing Hua University, Taiwan
MS National Tsing Hua University, Taiwan
PhD University of Michigan, Ann Arbor

 
---
Research Summary:
My research areas focus on the development of functional skeletal, cardiac muscles, cartilages and neural tissues by combining pluripotent stem cells, biomaterials and tissue engineering strategies. Pluripotent stem cells have the potential to differentiate into any cell lineages. Direct differentiation of human pluripotent stem cells into musculoskeletal and neural lineages is one of my major research areas. For biomaterial part, design, synthesis and fabrication of biodegradable polymers for tissue engineering scaffolding materials and molecular (DNA, RNA and small molecular drug) delivery is the second major research topic. Furthermore, another active research interest is the utilization of tissue engineering strategies for making functional engineered tissues in vitro for physiological studies, drug testing, and novel therapeutic application of regenerative medicine.
Selected Publications:
Xizi Dai, Khadija KAthiria, Yen-Chih Haung. Electrospun fiber scaffolds of poly (glyceroldodecanedioate) and its gelatin blended polymers for soft tissue engineering. Biofabrication. 2014, 6 (3) 035005.Tingjun Lei,

Romila Manchanda, Alicia Fernandez-Fernandez, Yen-Chih Huang, Douglas Wright, Anthony J. McGoron. Thermal and pH sensitive multifunctional polymer nanoparticles for cancer imaging and therapy. RSC Advances. 2014, 4 (34), 17959 – 17968.

Xizi Dai, Yen-Chih Huang. Electrospun Fibrous Scaffolds of Poly(glycerol-dodecanedioate) for engineering neural tissues from mouse embryonic stem cells. Journal of Visualized Experiments. 2014, (88), e51587, doi:10.3791/51587.

Xizi Dai, Yen-Chih Huang. Pluripotent stem cell derived neural lineage cells and biomaterials for neuroscience and neuroengineering. Journal of Neuroscience and Neuroengineering. 2(2):1-21. 2013

Migneco F, Huang YC, Birla RK, Hollister SJ. Poly(glycerol-dodecanoate), a biodegradable polyester for medical devices and tissue engineering scaffolds. Biomaterials. 2009 Nov;30(33):6479-84.