UConn Research will Go into Space!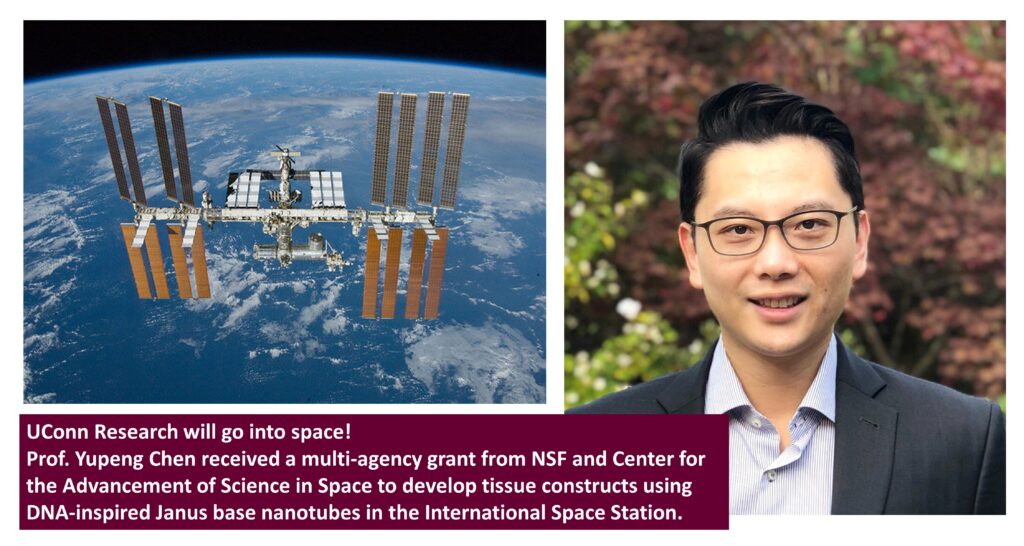 Prof. Yupeng Chen has received a grant titled: "Engineering Multiple-Compartment Cartilage Tissue Construct for Space and Terrestrial Applications" to develop tissue constructs using DNA-inspired Janus base nanotubes in the International Space Station.
This is a multi-agency grant including $400,000 to UConn from NSF and $415,000 to SpaceTango (the implementation partner) from CASIS and NASA. NASA will also cover the cost and resources to launch the experiment into Space via a SpaceX Falcon-9 rocket in 2022.
Four students from the Clinical Engineering Program Awarded Scholarships from AAMI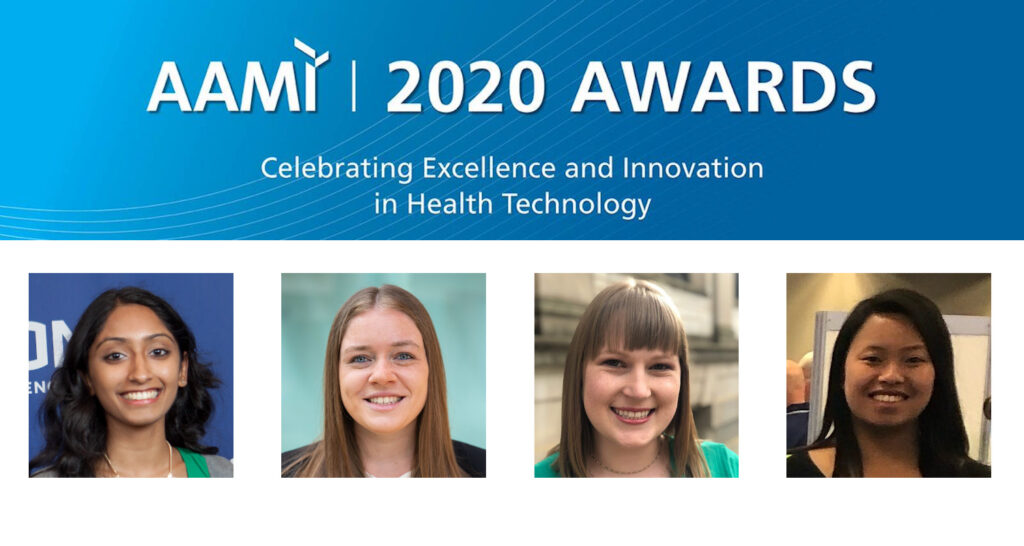 The AAMI–HSEA Health Systems Engineering Scholarship: Rima Viradia

AAMI Foundation Michael J. Miller Scholarship: Jacqueline Bertan, Shelby Johns, Emily Sizemore
https://www.aami.org/detail-pages/press-release/aami-names-2020-award-and-scholarship-winners
Profs. Chen and Chon Received NIH Grant to Develop Smartphone Sensor to Detect Tooth Pain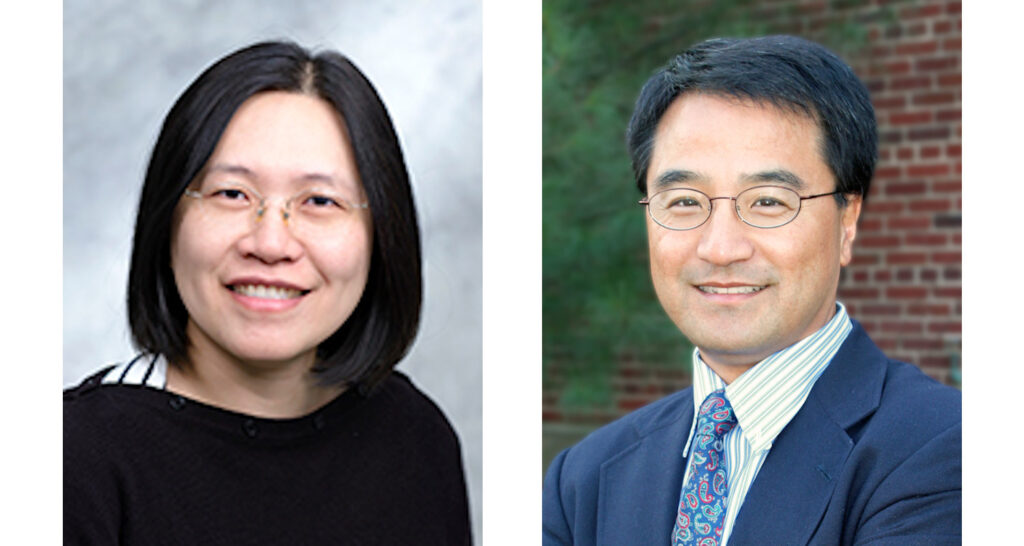 Drs. Ki Chon (right) and I-Ping Chen (left) received a new R21 grant from NIH.  Dr. I-Ping Chen is a Dental Medicine faculty at UConn Health.  This is a multi-PI collaborative grant which will investigate a novel approach to quantify dental pain.  The grant is entitled "Quantitative assessment of dental pain using a smartphone-attachable electrodermal activity sensor."  The grant is for 2 years (6/1/2020-5/30/2022) and the amount is $462,964.
https://today.uconn.edu/2020/06/uconn-faculty-receive-nih-grant-develop-smartphone-sensor-detect-tooth-pain/
Leila Daneshmandi recognized by Women of Innovation
Leila Daneshmandi, a Ph.D. candidate in our Biomedical Engineering Department, is the 2020 finalist in the category of Collegian Innovation and Leadership women of innovation. This is a great honor and accomplishment to be selected among 150 nominations. For more information, please check links below:
https://www.ct.org/finalists-named-for-16th-annual-women-of-innovation-awards/
https://ctdidi.com/women-of-innovation/finalists-2020/#collegian-innovation
Dr. Kazunori Hoshino was awarded a CAREER award from the NSF
UCONN BME Senior Design 2019-2020
Professor Painter Receives 2020 AAMI Foundation & ACCE Robert Morris Humanitarian Award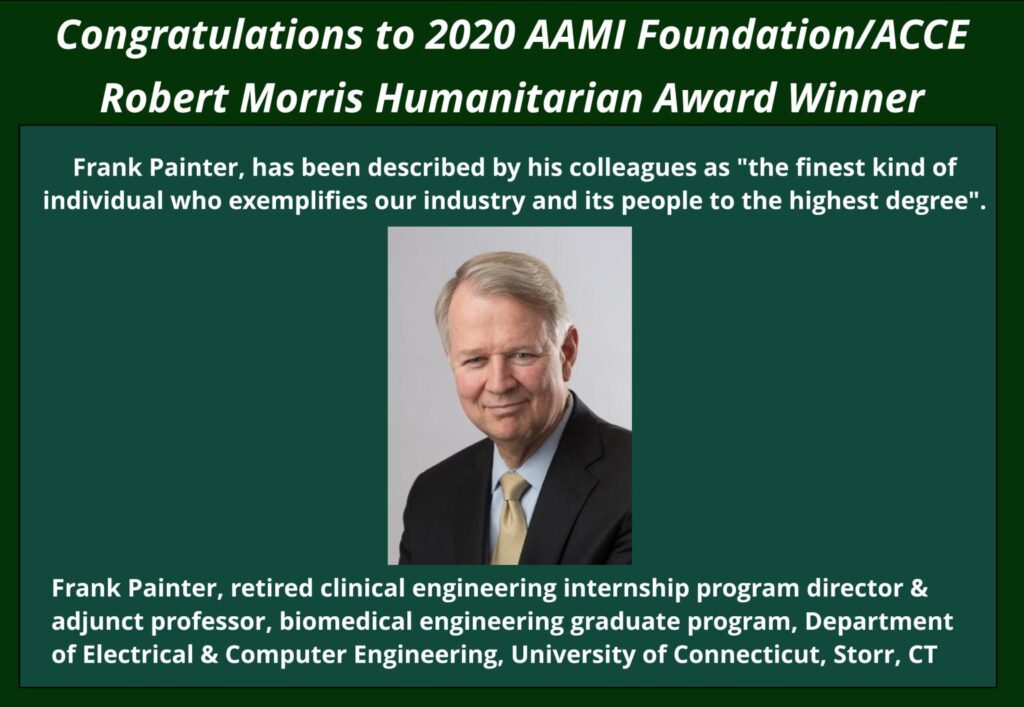 Join us in congratulating the 2020 AAMI Foundation & ACCE Robert Morris Humanitarian Award recipient: Frank R. Painter "Frank reflects the spirit of Bob Morris's vision and the necessary elements of making that vision a reality. His dedication to the profession is evident through his humanitarian work/teaching in several Clinical Engineering workshops spanning over decades for various organizations as ACCE, WHO, International Aid and more. He has set up the only Clinical Engineering MS Degree in the United States at University of Connecticut, has volunteered his time for many organizations (national and international), and is an absolute positive role model for clinical engineering professionals throughout the world." said Ilir Kullolli, ACCE President.
Spotlight on Professor Nukavarapu's research as described by one of his PhD students
Dr. Kshitiz and Yale Researchers Draw an Evolutionary Connection Between Pregnancy and Cancer Metastasis
UConn and Yale Researchers Draw an Evolutionary Connection Between Pregnancy and Cancer Metastasis
Drs. Bin Feng and Guoan Zheng Receive a $2 Million U01 Grant from the NIH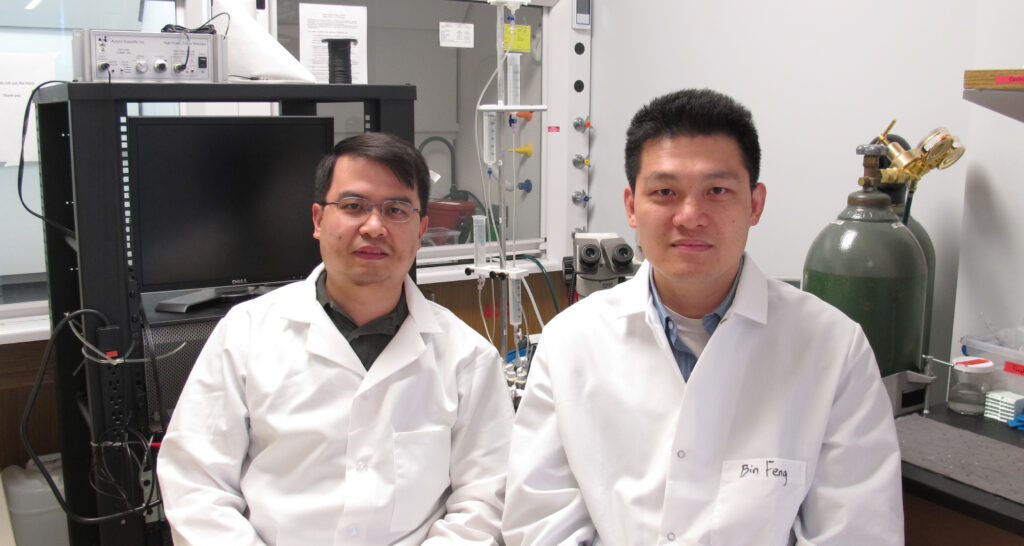 Drs. Bin Feng (PI) and Guoan Zheng (Co-PI) have received a notice of award for their NIH U01 grant. The grant is for three years and the amount is $2.03M.
Title: Determine the topology and molecular profiles of nociceptive DRG neurons innervating the colon and rectum.
Chronic visceral pain is the cardinal symptom of patients with irritable bowel syndrome (IBS) affecting up to 15% of the U.S. population. Efficacious and reliable therapeutic intervention is still unavailable despite the tremendous economic burden imposed by visceral pain. Pharmacological treatments of visceral pain in IBS are largely unsatisfactory with side effects outweighing therapeutic benefits. In contrast, neuromodulation (e.g., spinal cord stimulation) as an alternative to drugs has much fewer side effects. Recent advances in neuromodulation of the dorsal root ganglions (DRG) relieves certain somatic and neuropathic pain. Hence, the DRG appears to be a promising target for next-generation neuromodulatory devices to treat IBS-related visceral pain. We aim to leverage our recent technical advances in optical electrophysiology via Ca2+ imaging and single-cell transcriptome assay of sensory neurons to characterize the topology and molecular profiles of colorectal nociceptors in the thoracolumbar and lumbosacral DRG. The outcomes of this research will guide the design of next-generation neuromodulatory devices that target DRG for effective management of chronic visceral pain while minimizing off-target side effects.
U01 NS113873 PI (Feng) co-PI (Zheng) 9/24/2019 – 8/31/2022 $2,030,740
National Institutes of Health, NINDS