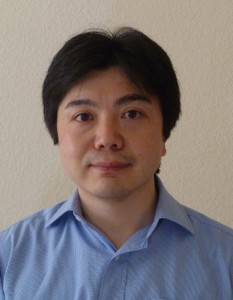 Kazunori Hoshino, Ph.D.
Assistant Professor, Biomedical Engineering
Research Interests:  
Nano/micro-electro-mechanical systems (NEMS/MEMS); detection, imaging and analysis of cancer cells; nano and micro scale mechanical sensing and optical imaging.
Address:   
260 Glenbrook Rd Unit 3247
University of Connecticut
Office Phone:   860-486-4294
Office Fax:   860-486-2500
Education:
BS University of Tokyo
MS University of Tokyo
Ph.D. University of Tokyo
---
Research Summary:
He studies nano/micro-electro-mechanical systems (NEMS/MEMS) for biomedical applications. The two focus areas are: (1) Nano and microscale mechanical sensing and optical imaging. Microfabricated mechanical sensors and actuators are strong tools for biomedical analysis. He has created several types of micro-scale mechanical manipulators for the analysis of live microtissues and cells. He integrates his expertise in image analysis and numerical analysis to open up a unique research area, namely microscale robotics for tissue engineering. (2) Detection and analysis of cancer cells. He investigates smart microfluidic systems to capture and analyze cancer cells. He developed a system that successfully separated cancer cells from clinical blood samples of patients with breast, prostate, colon, and lung cancer.
He co-authored a textbook, Molecular Sensors and Nanodevices, from Elsevier (1st edition in 2013, 2nd edition in 2018), and has more than 110 peer-reviewed publications. He is the inventor of 6 US patents and 12 Japanese patents.
More information can be found on my website
Honors and Awards:
NSF-CCSS (Communications, Circuits, and Sensing-Systems) award

NEDO (the New Energy and Industrial Technology Development Organization of Japan) Industrial Technology Research Grant

MEXT (Ministry of Education, Culture, Sports, Science and Technology in Japan) grant

JSPS (the Japan Society for the Promotion of Science) grant
Selected Publications:
Garrett J. Soler, Mengdi Bao, Devina Jaiswal, Hitten P. Zaveri, Michael L. DiLuna, Ryan A. Grant, and Kazunori Hoshino, "A Review of Cerebral Shunts, Current Technologies and Future Endeavors," Yale Journal of Biology and Medicine, 91(3): 313–321, 2018.

Devina Jaiswal, Min D. Tang-Schomer, Disha Sood, David L. Kaplan, and Kazunori Hoshino, "Non-destructive, Label-free Characterization of Mechanical Micro-heterogeneity in Biomimetic Materials," ACS Biomaterials Science & Engineering 4(9), 3259-3267, 2018.

Devina Jaiswal, Norah Cowley, Zichao Bian, Guoan Zheng, Kevin P. Claffey, and Kazunori Hoshino, "Stiffness Analysis of 3D Spheroids using Microtweezers," PLoS ONE 12(11): e0188346.

Devina Jaiswal, Armin Tahmasbi Rad, Mu-Ping Nieh, Kevin P. Claffey, and Kazunori Hoshino, "Micromagnetic Cancer Cell Immobilization and Release for Real-Time Single Cell Analysis." Journal of Magnetism and Magnetic Materials, 427, 7-13, 2017.

Hasan S. Fiaz, Casey R. Settle, and Kazunori Hoshino, "Metal additive manufacturing for microelectromechanical systems: Titanium alloy (Ti-6Al-4V)-based nanopositioning flexure fabricated by electron beam melting." Sensors and Actuators A, 249, 284-293, 2016.