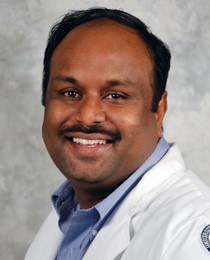 Sangamesh G. Kumbar, Ph.D.
Associate Professor, Orthopaedic Surgery
Research Interests:  
Polymeric micro-nanostructures for tissue regeneration and drug delivery applications. Polymeric Biomaterials, Nano-biomaterials, Drug delivery, Biodegradable scaffolds Tissue Engineering
Address:   
MC3711, Room No: E7032 263 Farmington Avenue Farmington, CT 06030
Office Phone:   (860) 679-3955
Office Fax:   (860) 679-1553
Education:
BSc. Karnatak University (KUD)
MSc. Karnatak University (KUD)
Ph.D. Karnatak University (KUD)
Books:
---
Research Summary:
Tissue engineering seeks to design tissue substitutes for clinical use to overcome the limitations associated with autografts and allografts. Scaffold-based tissue engineering has become a promising strategy to regenerate three-dimensional (3-D) tissues for transplantation. A wide range of synthetic and natural polymers have already been adopted for 3-D scaffold fabrication. Scaffolds derived from polymers of natural origin have shown superior biological performance due to their chemical similarity with extracellular matrix (ECM) components, which the biological environment recognizes and deals with metabolically. Natural polymer scaffolds may also minimize chronic inflammation or immunological reactions and toxicity often associated with synthetic polymer scaffolds. However, scaffolds fabricated currently from materials of natural origin have failed to possess adequate mechanical properties, interconnected pore structure and/or porosity suitable for bone healing applications at load-bearing sites. Dr. Kumbar's research program aims to develop mechanically competent, porous, 3-D scaffolds functionalized with nanofiber structures of natural origin for bone repair and regeneration applications. Dr. Kumbar's other research program aims to develop injectable particulate chemotherapeutic agent's delivery systems. Chemotherapeutic drugs used currently possess several drawbacks such as poor solubility and non-specificity requiring high drug doses to attain therapeutic concentration. Contemporary drug delivery systems comprised of nanoparticles, liposomes and micelles can reduce non-specific systemic toxicity, however, targeting cancer cells still remains a challenge. Prodrug and targeting concept based on the polyphosphazene platform provides numerous opportunities to synthesize several cytotoxic drugs with improved clinical performance. These amphiphilic prodrugs self-assemble and form micelles possess the ability to deliver multiple drugs and can be easily functionalized for active targeting. Active drug will be generated at the site of action following peptide drug cleavage from the polymer backbone in the tumor environment and lysosomal peptide spacer degradation. This platform can produce numerous chemotherapeutic drug formulations for cancer treatment. Such delivery systems can significantly improve the performance of chemotherapeutic drugs and contribute to prolonging a good quality of life.
More information on current projects can be found on my website.
Honors and Awards:
M.Sc. Topper Obtained Prof. E S. Jayadevappa Memorial Gold Medal, KUD, India

National Merit Scholarship, Government of India, India
Selected Publications:
Bioactive Polymeric Nanofiber Dressings for Wound Healing. Guadalupe E., Ramos D.M., Shelke N.B., James R., Gibney C., and Kumbar, S.G.* J. Appl. Polym. Sci. 2015, 132, 41879.

Gelatin Nanofiber Matrices Derived from Schiff Base Derivative for Tissue Engineering Applications. Jaiswal D., James, R., Shelke N.B., Harmon M.D., Brown J. L., Hussain F., and Kumbar, S.G.* J. Biomed. Nanotechnol., 11,1-14, 2015, doi:10.1166/jbn.2015.2100

Synthesis and Characterization of Electrically Conducting Polymers for Regenerative Engineering Applications: Sulfonated Ionic Membranes. James, R., Nagarale, R.K., Sachan, V., Badalucco, C., Bhattacharya P., and Kumbar, S.G.* Polym. Adv. Tech., 25 1439–1445, 2014, DOI: 10.1002/pat.3385

A Smart Methodology to Fabricate Electrospun Chitosan Nanofiber Matrices for Regenerative Engineering Applications. Nada, A.A., James, R., Shelke, N.B., Harmon, M.D., Awad, H. M., Nagarale, R. K., Kumbar, S.G.*, Polym. Adv. Tech., 25 (5), 507-515, 2014.

Cellulose and Collagen Derived Micro-Nano Structured Scaffolds for Bone Tissue Engineering. Aravamudhan, A., Ramos, D.M., Nip, J., Harmon, M., James, R., Deng, M., Laurencin, C.T., Yu, X., Kumbar, S.G.*, J. Biomed. Nanotechnology, 9 (4), 719-731, 2013