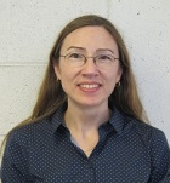 Wendy S. Vanden Berg-Foels, Ph.D.
Research Interests:  
Tissue engineering, regenerative medicine, cartilage regeneration, helium ion microscopy, scanning electron microscopy
Address:   
260 Glenbrook Road, Unit 3247 
University of Connecticut
Office Phone: (860) 486-1556
Office Fax: (860) 486-2500
Education:
BS University of Iowa
MS Cornell University
PhD Cornell University
---
Research Summary:
The research in my laboratory focuses on tissue engineering, with an emphasis on articular cartilage regeneration. There are three main ongoing research projects: characterization of local endogenous stem cells that may be recruited for cartilage regeneration, multi-stage growth factor delivery for endogenous stem cell recruitment and cartilage wound healing, and multi-scale characterization of native and regenerated cartilage collagen networks and their interface connectivity. The overall goal of my research program is to induce an in situ cartilage healing response in cartilage injuries that typically do not heal in the clinical population.
Honors and Awards:
NIH T32 Training Grant Postdoctoral Fellowship

AAUW Selected Professions Dissertations Fellowship

National Science Foundation Graduate Research Fellowship
Selected Publications:
Pettinato G, Vanden Berg-Foels WS, Zhang N., Wen X. ROCK inhibitor is not required for embryonic body formation from singularized human embryonic stem cells. PLoS One 9(11), 2014. (PMID 25365581)
Vanden Berg-Foels WS*. In situ tissue regeneration: chemoattractants for endogenous stem cell recruitment. Tissue Engineering, Part B: Reviews 20(1), 28-39, 2014. Epub July 2013. (PMID 23678952)
Alexander A†, Vanden Berg-Foels WS†, Wen X. Bioengineering strategies for cancer targeting. Advances in Cancer Research 118, 1-59, 2013. (PMID 23768509)† These authors contributed equally to this work.
Vanden Berg-Foels WS, Scipioni L, Huynh C, Wen X. High resolution visualization of the articular cartilage collagen network by helium ion microscopy. Journal of Microscopy 246(2), 168-176, 2012. (PMID 22416783)  Featured on globalmedicaldiscovery.com June 29 – July 6, 2012.
Vanden Berg-Foels WS*, Schwager SJ, Todhunter RJ, Reeves AP. Femoral head shape differences during development may identify hips at risk of degeneration. Annals of Biomedical Engineering 39(12), 2955-2963, 2011. (PMID 21909817)