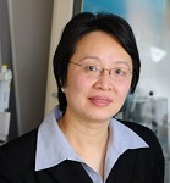 Mei Wei, Ph.D.
Research Interests:  
Biomaterials for tissue repair and drug delivery, tissue engineering scaffolds, biomimetic coatings, organic and inorganic composites, magnetic nanoparticles for contrast agent and cancer treatment, biomaterial-cell interactions, and in vivo tests of biomaterials 
Address:   
97 N. Eagleville Road, Unit 3137
Office Phone: (860) 486-9253
Education:
Ph.D., University of New South Wales 
---
Research Summary:
The Wei laboratory emphasizes the integration of current engineering science with emerging fields of engineering applications and processes. Our research focuses on the development of novel biomaterials for tissue repair and regeneration. Due to the nature of our research, students work on multidisciplinary, team-based research projects, which involve scientists from disciplines including Materials Science, Polymer Science, Biology, Animal Science, Computer Science as well as Industry Partners.
More information about current projects can be found at:
http://weilaboratory.engr.uconn.edu/
Selected Publications:
E Kramer, B Kunkemoeller, M Wei. "Evaluation of alkaline pre-treatment of PLLA fibers for biomimetic hydroxyapatite coating," Surface and Coatings Technology, 2014, 244, 23-28
Z Xia, M Villa, M Wei. "A biomimetic collagen–apatite scaffold with a multi-level lamellar structure for bone tissue engineering," J. Mater. Chem. B, 2014,2, 1998-2007
X Yu, M Wei.  "Cellular Performance Comparison of Biomimetic Calcium Phosphate Coating and Alkaline Treated Titanium Surface," BioMed. Res. Int., accepted, 2013
X Yu, M Wei, J Walsh. "Covalent Immobilization of Collagen on Titanium through Polydopamine Coating to Improve Cellular Performances of MC3T3-E1 Cells." RSC Advances, accepted, 2013
E Kramer, M Zilm, M Wei. "A comparative study of the sintering behavior of pure and iron-substituted hydroxyapatite."  Bioceramics Development and Applications, accepted, 2013