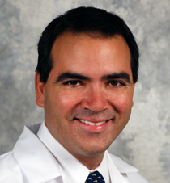 Yusuf Khan , Ph.D.
Research Interests:  
Tissue scaffolds, treatment of musculoskeletal defects, bone defects due to trauma and congenital defects, autografts and allografts, and biodegradable polymers and ceramics.
Address:   
MC3711, Room No: E7052

UConn Health Center
263 Farmington Avenue
Farmington, CT 06030
Education:
---
Research Summary:
The treatment of musculoskeletal defects, particularly bone defects, due to trauma, congenital defects, or other anomalies is dominated by the use of autografts and allografts. Autografts are tissue that is harvested from a donor site within a patient and re-implanted at the defect site. Allografts are tissue harvested from a cadaver. Each solution, however, has limitations and presents a need for suitable alternatives. Our research interests lie in finding solutions to these problems through tissue engineering. The development of biocompatible and biodegradable scaffolds capable of sustaining cellular migration, proliferation, and differentiation is central to our work. Through the use of biodegradable polymers alone and in combination with ceramic materials, we are investigating strategies to synthesize scaffolds that are also capable of delivering proteins and growth factors essential for complete and adequate healing of bone defects.
More information about current projects can be found at:
http://regenerativeengineering.uchc.edu/team/khan.html
Selected Publications:
Sharmin F, Adams D, Pensak M, Dukas A, Lieberman J, Khan Y. Biofunctionalizing Devitalized Bone Allografts through Polymer-Mediated Short and Long Term Growth Factor Delivery. J Biomed Mater. Res. 2015 Feb 17. doi: 10.1002/jbm.a.35435. [Epub ahead of print]

Rivas M, Vyas V, Carter A, Veronick J, Khan Y, Kolosov OV, Polcawich R, Huey B. Nanoscale Mapping of In-Situ Actuating Micro Electro Mechanical Systems with AFM.  J. Materials Research 30 (3), 1-13, 2015.

Khan Y.  Regulatory Process of Nanostructured Tissue-Engineered Scaffolds. In Laurencin CT, Nair LS. (eds) Nanotechnology and Tissue Regenerative Engineering: The Scaffold, 2nd Edition. Boca Raton FL. CRC Press (2014).

Laurencin CT, Khan Y. Regenerative Engineering. Sci. Transl. Med. 4(160) ed. (2012)

Laurencin CT. Khan Y.  A Critical Assessment of the Clinical Efficacy and Cellular Response to Low Intensity Pulsed Ultrasound for Fracture Repair.  Advances in Science and Technology, 76, 2010, 195-206.