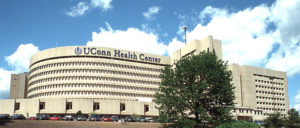 UConn Health is a vibrant, integrated academic medical center that is entering an era of unprecedented growth in all three areas of its mission: academics, research, and clinical care.
UConn Health is at the center of Bioscience Connecticut, a bold plan introduced by Connecticut Governor Dannel P. Malloy and approved by the Connecticut General Assembly in 2011. The plan will strengthen Connecticut's position as a national and global leader for bioscience innovation and improve access to quality health care for Connecticut citizens for generations to come.
Based in Farmington, Connecticut – a popular suburb of the state's capitol of Hartford – UConn Health is home to the School of Medicine, School of Dental Medicine, John Dempsey Hospital, UConn Medical Group, UConn Health Partners, University Dentists and a thriving research enterprise.
With approximately 5,000 employees, UConn Health is a major economic driver in the region, generating nearly $1 billion annually in gross state product. It is closely linked with the University of Connecticut's main campus in Storrs through multiple, cross-campus academic projects.
Learn more about: