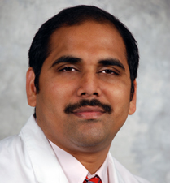 Syam Nukavarapu, Ph.D.
Research Interests: Biomaterials, Stem Cells, Bone and Bone-Cartilage Interface Regeneration, and Bedside Tissue Engineering Methods
Address:   
UConn Health
263 Farmington Avenue
Farmington, CT 06030
Office Phone: 
(860)679-4183
Education: 
PhD Indian Institute of Science (IISc)
Postdoc Lehigh University, and University of Virginia (UVA)
---
Research Summary:
Research in my laboratory involves the development and evaluation of advanced biomaterials and matrix systems for bone and bone-cartilage interface (osteochondral) tissue engineering. Our group is primarily focused to develop methods for rapid stem cell isolation and matrix systems that support cell loading at the bedside to implement Completely Intra-operative Tissue Engineering Strategies (CITES) for on-site therapy/ bedside tissue engineering.
More information about the current research projects can be found at:
http://regenerativeengineering.uchc.edu/team/nukavarapu.html
Honors and Awards:
Young Investigator Award, AO Foundation, Davos, Switzerland

Mentorship (M-1) award, Connecticut Institute for Clinical and Translational Science (CICATS), University of Connecticut

Junior Investigator Award, Musculoskeletal Transplant Foundation (MTF), Edison, NJ
Books Edited:
Nukavarapu SP, Liu H, Deng T, Oyen M, Tamerler C, Advances in Structures, Properties and Applications of Biological and Bioinspired Materials, MRS F13 Symposium Proceedings, Volume 1621, Cambridge Press.

Nukavarapu SP, Freeman J, Laurencin CT. Regenerative Engineering of Musculoskeletal Tissues and Interfaces, Woodhead Publishers, 2015.
PubMed Citations Link:
http://www.ncbi.nlm.nih.gov/pubmed/?term=nukavarapu