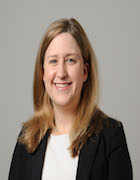 Kelly A Burke, Ph.D.
Research Interests:  
biomaterials, biopolymers, soft tissue engineering and regenerative medicine

Address:   
Institute of Materials Science Room 205B
97 North Eagleville Road Unit 3136
Storrs, CT 06269-3136
Office Phone:   
860-486-3133

Office Fax:   (860) 486-2959

Education:
B.S.E. University of Connecticut
Ph.D. Case Western Reserve University
NIH Postdoctoral Fellow, Biomedical Engineering, Tufts University
---
Research Summary:
Our lab's research is centered on the synthesis and characterization of functional polymeric materials. The core of this research is aimed at leveraging synthetic techniques and processing methods to manipulate polymer structures at various length scales and to use these structures to control bulk and interfacial material properties. We study both synthetic polymers and naturally occurring biopolymers, with current research projects focusing on advanced materials for tissue engineering and regenerative medicine.
Information about current research projects can be found at http://cbe.engr.uconn.edu/person/kelly-burke/
Selected Publications:
Burke, K.A.; Roberts, D.C.; Kaplan, D.L. "Silk Fibroin Aqueous-Based Adhesives Inspired by Mussel Adhesive Proteins." Biomacromolecules 2016, 17, (1), 237-245.
Burke, K.A.; Brenckle, M.A.; Kaplan, D.L; Omenetto, F.G. "Evaluation of the Spectral Response of Functionalized Silk Inverse Opals as Colorimetric Immunosensors." ACS Applied Materials and Interfaces 2016, 8(25), 16218-26.

Partlow, B.P.; Hanna, C.W.; Rnjak-Kovacina, J.; Moreau, J.E.; Applegate, M.B; Burke, K.A.; Marelli, B.; Mitropoulos, A.N.; Omenetto, F.G.; Kaplan, D.L. "Highly tunable elastomeric silk biomaterials." Advanced Functional Materials 2014, 24, (29), 4615-4624.

Davis, K.A.; Burke K.A.; Mather P.T.; Henderson J.H., "Dynamic cell behavior on shape memory polymer substrates." Biomaterials 2011, 32, 2285-2293.

Burke, K.A.; Mather, P. T. "Soft Shape Memory in Liquid Crystalline Elastomers." Journal of Materials Chemistry 2010, 20, (17), 3449-3457.