Lindsay Jimenez Receives 2015 UConn Co-op of the Year Award
UConn BME student Lindsay Jimenez has been selected as the 1st Place Winner for her spring 2015 Cooperative Education experience with INDICASAT AIP, in Panama, for her lab work with tissue engineering of the brain.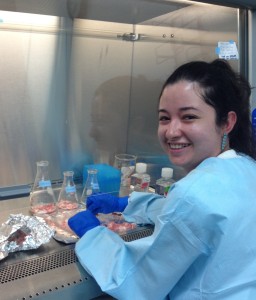 "My research was based in getting mesenchymal stem cells from breast milk, and, by using porcine brain as a scaffold, be able to differentiate these cells into neurons. If this research is successful, then the material created could either be implanted or injected into a patient with brain damage or other brain issues so that new neurons could grow."
In order to achieve this, the project was divided into two parts: first, creating the scaffold, the main material that would be used, and second, growing the cells that would be attached to this material. The material was derived from pig brain, which was washed with solutions to remove of all the DNA and only leave the cell matrix intact. The cells used came from breast milk and would be grown into the pig brain so that they could become neurons. The pig brain material combined with the milk stem cells would finally be injected in the zone where the brain damage was caused to allow for new neurons to grow. This can allow patients with brain damage to recover and have a normal life once again.