Biomedical Engineering Design I & II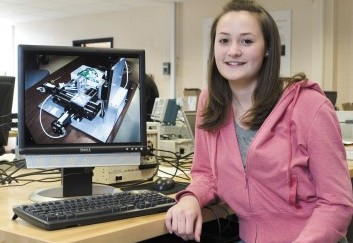 BME4900 (Design I) and BME 4910 (Design II) is a two-semester course sequence that provides an opportunity for practical and innovative problem solving in creating a product to meet a real need for a customer/client. These courses are intended to engage students in a meaningful experience by bringing together concepts and principles learned in the biomedical engineering curriculum, extending this theory to practical application, to plan and construct a project. Course emphasis is placed on learning the design process within the framework of an engineering team. Particular focus in the design experience is placed on the creation of a "commercial product." This experience is comprehensive, reflecting all aspects of the engineering design process, and industry practice. Problem solving for large-scale, open-ended, complex and sometimes incompletely defined systems is the primary emphasis of these courses.
Students also learn what it is like to work in industry and learn the tricks of the trade. Many of our students elect to get valuable work experience by working on a design project with local companies. Other students are involved in constructing devices to aid persons with disabilities. Some past projects include: digital hearing aids, assistive learning devices, environmental control systems, motorizing manual wheel chairs with state-of-the-art microcontrollers, accessible and communication devices for the hearing impaired.
Learn more about Engineering Senior Design at UConn